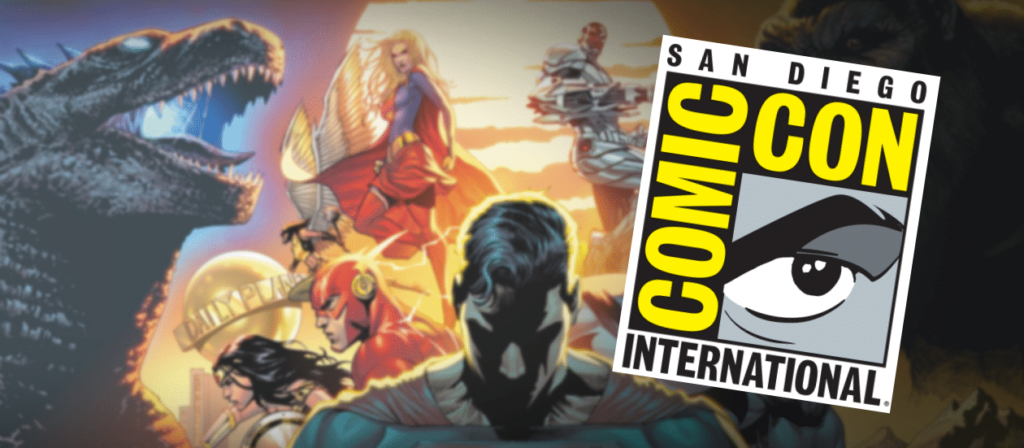 23-07-23 | Over the past decades San Diego Comic Con has developed into the definitive platform for key announcements about upcoming comic and media projects. And the 2023 edition, which ran from the Friday 21st of July through Sunday the 23rd, was no exception. Let's take a look at the biggest newbies that came from San Diego this weekend.





THE LATEST FROM MARVEL COMICS
Ironically, comics are increasingly becoming an overlooked aspect of Comic Con. Nevertheless, Marvel Comics found the time to reveal that The Punisher will return to comic book stores soon. Here's the twist: this Punisher is not Frank Castle, but a brand new hero who doesn't take kindly to evildoers. None other than S.H.I.E.L.D. agent Joe Garrison inherits the title. Marvel also teases a new line-up of X-Men, which are likely to debut in the latest storyline, Fall of X.  Finally, there is the latest entry in the Marvel Cinematic Universe. The Marvels will team-up Captain Marvel, Monica Rambeau and Ms. Marvel, for which the trailer is out now.

DC COMICS MEETS GODZILLA
The biggest announcement in comic books this year was probably Justice League vs. Godzilla vs. Kong. This upcoming comic, written by veteran Brian Buccellato, will depict a blockbuster battle between the Justice League and these iconic movie monsters. Don't expect it to be thought provoking. It's good old fashioned raw comic book action! DC also unveiled the trailer for Harley Quinn's fourth animated series and announced that Crisis on Infinite Earths and Alan Moore's seminal Watchmen will be brought to life in animated form. Exciting stuff indeed!





MODERN AND CLASSIC TEENAGE MUTANT NINJA TURLES
Most San Diego Comic Con news deals with movies and television. And it's the creators of Teenage Mutant Ninja Turtles: Mutant Mayhem, who feel particularly confident! The lucky bastards in San Diego got to see the first twenty minutes of the upcoming movie. A good sign for turtle-lovers, as the studio would only allow this footage to be released if the film lived up to its source material. Speaking of which, Nickelodeon has announced that they will be rebroadcasting the vintage 1987 Teenage Mutant Ninja Turles cartoon once more! Whether you like the new stuff or the classics, it's a good time to be a Ninja Turtles fan!

THE WALKING DEAD VIDEO GAMES AND SPIN OFFS
Lots of news concerning The Walking Dead. Their brand new game, The Walking Dead: Betrayal, allows several gamers to experience a zombie siege together. Like the comics and the series, it's less about the zombies and more about the interpersonal relationships, as several players will be designated 'traitors' that have objectives which clash with the other players. The televisions shows, meanwhile, are still going strong. Over the weekend it was confirmed that Dead City and Daryl Dixon would return for a second series and that a third spin off, focusing on Rick Grimes and Michonne, will be coming soon.





THE BOYS, ADVENTURE TIME AND MORE
Rather than outright sequels, a surprising amount of spin offs have been announced over the weekend. Amazon Studios will premiere Gen V in September, which will be a college based spin off of their hit series The Boys. It'll be based on a storyline familiar to readers of the original comics. Adventure Time: Fionna and Cake will gender swap Finn and Jake in a new HBO Max series coming in august this year. The concept is not new, having appeared in a beloved episode of the original series. Finally there is The Continental, which will serve as a prequel to the John Wick films.

TRAILERS, TRAILERS, TRAILERS!
Studios love bombarding comic fans with trailers during the San Diego convention. An unusual but welcome title is Kalki 2898 AG, which is Bollywood's attempt to conquer the American market. Amazon also released a teaser for the animated Invincible season 2. As mentioned above, The Marvels and Harley Quinn series 4 were among the most notable trailers which debuted at the convention this year. We'll see you in 2024, when we recap San Diego Comic Con once more!