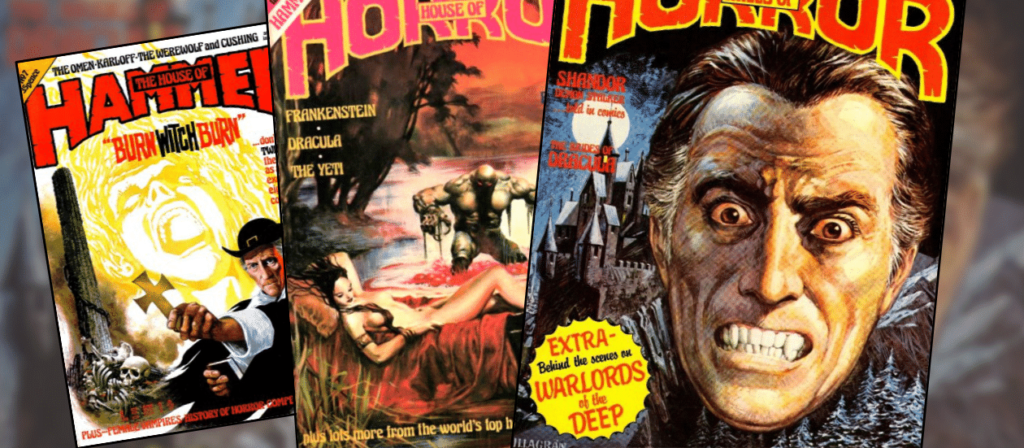 08-10-23 | While I love the eighties slashers or Italian gore movies some of you will be revisiting this Halloween, it's Hammer Horror that really does it for me. Nothing compares to Christopher Lee's Dracula, Peter Cushing's Frankenstein and all the other amazing fantasy films the British studio has produced over the years. Most of you will have heard of the famous Hammer Horrors of the 50s, 60s and 70s, but did you know there was a formidable range of Hammer comics as well? And that The House of Hammer is incredibly good?!

The story of Hammer comics starts as Hammer Films fades into darkness. The company may have revolutionized the horror film in the mid-fifties, by the early seventies they were old hat. Hammer's gothic potboilers found it increasingly difficult to compete with American exorcists and chainsaw massacres, especially in an era when the British film industry was in a serious slump. Despite of this, Hammer had a loyal fanbase. A rabid audience a young man called Dez Skinn was keen to exploit.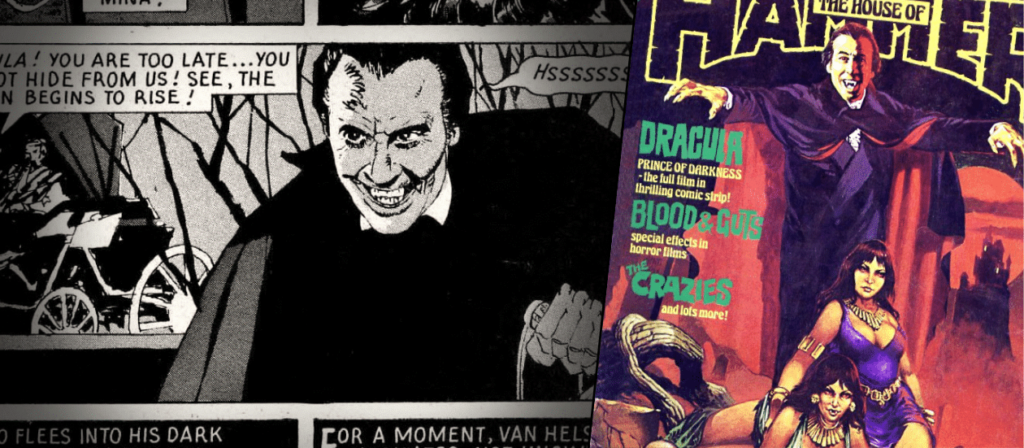 DEZ SKINN – THE BRITISH STAN LEE
Born Derek G. Skinn in 1951, Dez was a rising star in the British comics scene. At a time when British TV and cinema were starting to lose their appeal, UK comics were about to blossom. Anarchic titles like the science fiction anthology 2000AD pumped punk-fuelled angst into comics, which gave them relevance to a generation of angry British readers. One of those angry young men was Dez Skinn, who would launch many landmark titles in the 1970s and 80s. One of his first successes was The House of Hammer, launched in 1976.

The first issue of House of Hammer was published the same year the film company released its final ill-fated horror production: the dismal To The Devil a Daughter. Not only was Hammer Horror over the hill, it was dead in the water. As a cash-in publication, Skinn's horror magazine came 10 years too late. And yet despite of this The House of Hammer found an audience almost immediately. Though UK readers were no strangers to horror magazines, this particular title caught their attention unlike any that had come before.

And just like that Hammer Horror had risen from its grave! Though this time its appeal would be confined to a small niche audience. Those that were onboard were treated to the latest news and reviews, articles and interviews related to horror films in general and most notably comic book adaptions of Hammer's finest gothic masterpieces such as Horror of Dracula, Curse of the Werewolf, Plague of the Zombies and many others. Besides these film adaptions, House of Hammer developed a further series of brief but amusing original horror comics.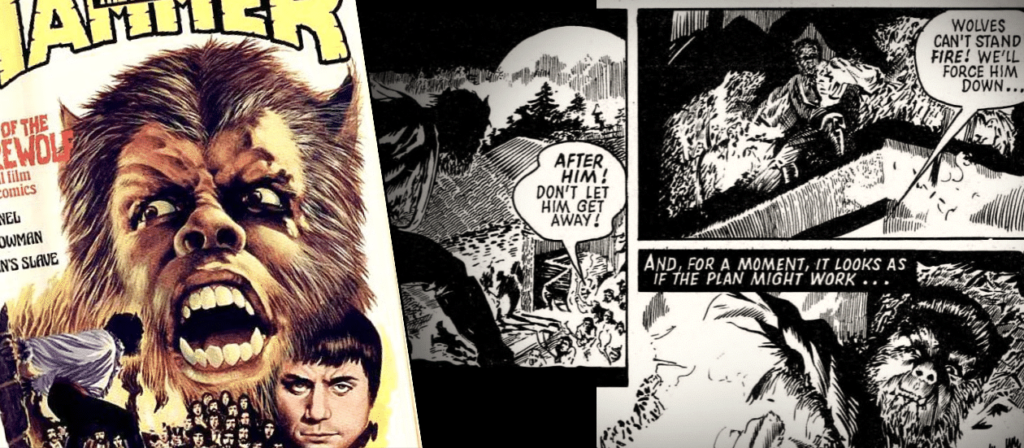 FAMOUS MONSTERS OF ENGLAND
A few of these stories starred vampire hunters Father Sandor (from Dracula Prince of Darkness) and Captain Kronos (from the film of the same name). The most reliable recurring original feature was Van Helsing's Terror Tales, packing quite a punch in but a few pages. Naturally a considerable number of articles dealt with Hammer favourites from the past, but House of Hammer happily devoted space to features about Universal Monsters, Roger Corman films and similar fare. This made the magazine far more than a cold tie-in. In a very real sense House of Hammer was the better, bolder version of American magazine Famous Monsters of Filmland.

The film adaptions featured in House of Hammer have become classics in their own right. Take the aforementioned Curse of the Werewolf, beautifully illustrated by Spanish artist Alberto Cuyas. It invokes the atmosphere of the early Creepy and Eerie comics by Warren Publishing, building on a long tradition of British black & white comics. One Million Years B.C., by John Bolton, is another example of a superb story brought to life by stunning artwork, with jungle girls and dinosaurs seeming to leap straight out of the imagination of a teenage boy.

The icing on the cake were the well written articles that accompanied each comic. Not only would you revisit your favourite Hammer Horror in comic form, a feature article offered context on the film it was based on and introduce you to related movie titles to salivate over. Thus The House of Hammer perfectly balanced graphic and textual content, with one complimenting the other. Over the years, House of Hammer would adapt no less than eighteen Hammer classics, plus one non-Hammer tie-in: The Monster Club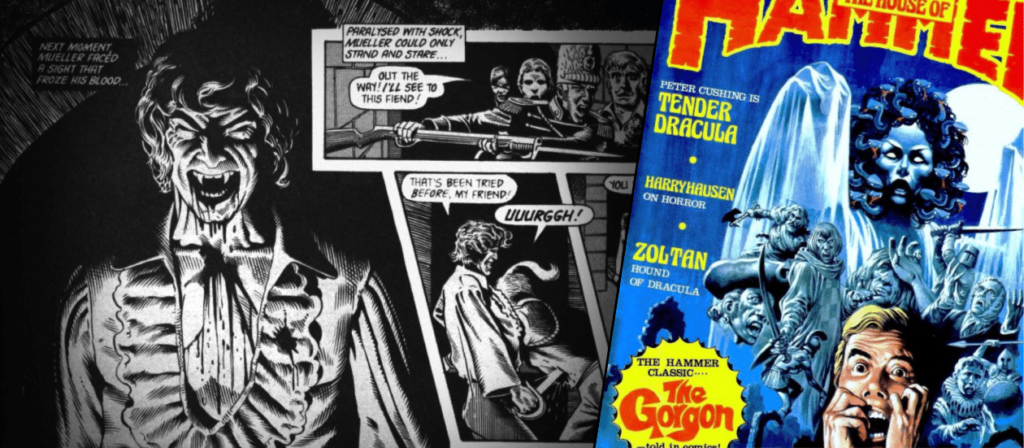 FROM HAMMER HORROR WITH LOVE
By 1978 House of Hammer had been renamed Hall of Horror and was briefly put on hiatus, as Dez Skinn was tasked with restructuring Marvel UK. In 1982 Dave Reeder took over as editor under Skinn's guidance, until the curtain fell in 1984. By that time Hammer Films had fallen, risen from the grave, and fallen again. 1979s The Lady Vanishes had bankrupted the film company and The Hammer House of Mystery and Suspense TV series failed to find an audience on television. For both comic and film company it was the end of the line.

Not so for Dez Skinn, who was just getting started! Inspired by the popular success of House of Hammer he set out to find another popular British property to give the magazine treatment. This led him to launching Doctor Who Weekly, which is still going strong today as Doctor Who Magazine. Along the same lines is Skinn's sci fi magazine Starburst, which remains the UKs go-to publication for fantasy news and articles. And we haven't even mentioned Warrior, which launched the careers of Alan Moore, Grant Morrison and many other.

Hammer Horror was relaunched too. The Woman in Black was a minor hit in 2012 and a trailer for Doctor Jekyll, starring Suzy Eddie Izzard, was revealed earlier this week. Nevertheless, most modern Hammer is Hammer in name only. But let's be honest: is it really new Hammer we want? Don't we prefer dissecting and cataloguing the corpses of long deceased film hits? If you've ran out of Hammer Horrors to (re)watch, House of Hammer is the thing for you. A series of comics and articles that reflect Hammer at the height of its power. Spectacular yet stylish, frighting yet fun. Long live Hammer Horror!