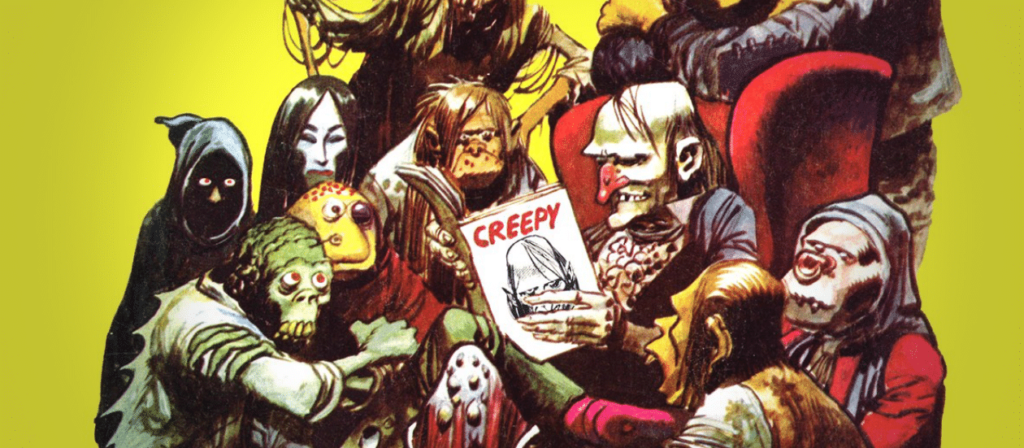 14-05-23 | If there's one thing that fills the comic book collector with dread: it's good news. Good news often means either saying yes to must-have products, which drain the collector's meagre budget, or saying no to must-have products, despite of them being unlikely to pop up again any time soon. Either way, the collector loses. At the moment, I am personally going through such a dilemma. The good news that fills me with dread is the return of Creepy and Eerie comics.

One of my most beloved comic book genres is the horror comic. And among horror comics Creepy and Eerie are my absolute favourites. These seminal shockers will be rereleased in trade paperback collections next week. Dark Horse Comics has been releasing hardcover editions since 2008, but these highly sought after collections have soared in price since then. The new editions should allow me to finally complete the set, but I fear my budget won't allow me to dip into these books. And yet I want them. Badly.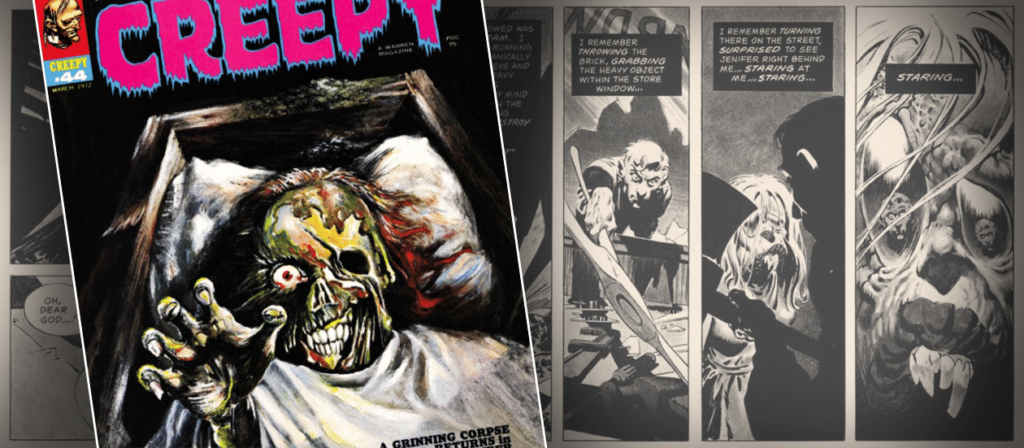 THE ORIGINS OF CREEPY
Someone who craved horror comics as much as I did was Russ Jones. In the early 1960s he approached publishers James Warren and Forrest J Ackerman, the gentlemen responsible for launching film magazine Famous Monsters of Filmland. What he pitched to them was a brand new monster comic, the first since the 1950s. Ever since EC's Tales from the Crypt caused a moral panic, horror had effectively become a forbidden comic book subject. Despite of this, Jones pursued his dream of reviving their gothic tradition, which led to Famous Monsters' sister publication: Monster World.

The brief comic adaptions of famous monster movies featured in Monster World were the first cautious step towards the creation of Creepy. Publishing horror was not without risk, as censors had the power to blacklist magazines and cut-off their revenue stream. James Warren found, however, that by printing in magazine form and black & white he could bypass these censors, which focused on traditional colour comics. Following Monster World, Russ Jones' idea was spun into a fully-fledged comic magazine, released in 1964 under the name Creepy to instant success. By 1965 the demand was so great that a second magazine, Eerie, was launched in its wake.

Creepy and Eerie offer an impressive buffet of grotesque stories. Respectively hosted by Uncle Creepy and Cousin Eerie, these magazines took the Tales from the Crypt formula and enhanced it with imagery straight out of the classic Universal monster movies. Usually an unsympathetic individual is dealt an unhealthy dose of poetic justice. And did I mention those quirky twist endings? Monster hunters mistake victims for vampires, fleeing girls turn out to be werewolves themselves, etc. Their grotesque imagery, unapologetically borrowed from Universal and Hammer horrors, sets them apart from what came before.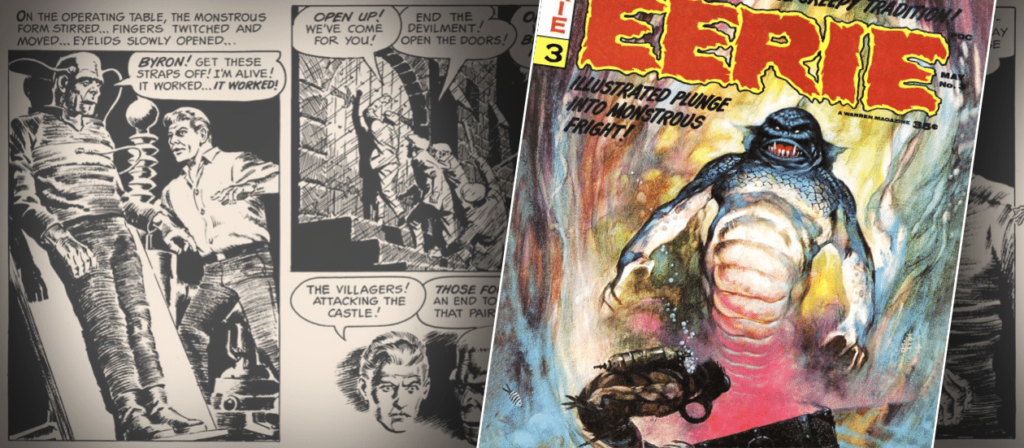 CREEPY CLASSICS AND EERIE EPICS
As far as I'm concerned, the presence of these movie monsters is the icing on the cake. A well written tale is a must, but it becomes so much more when artist dare to be superficial and toy with familiar gothic visuals. Take The Duel of the Monsters (Creepy #7), for instance, in which a vampire and werewolf battle for dominion of a small rural village. It echoes 1943s Frankenstein meets the Wolfman in more ways than one. More explicit is Footsteps of Frankenstein, which opens Eerie's first issue. It features a beautifully rendered neo-Frankenstein monster by artist Reed Crandall. Just one of many nods to the classic creature features I love so much.

Other notable contributors are Frank Frazetta and Bernie Wrightson. The legendary Frazetta created a considerable number of painted covers, which have since become classics. He also contributed to the first issue of Creepy. Werewolf! is a stunning story with a jungle setting, in which a game hunter is doomed by his own arrogance. One of my favourite Bernie Wrightson stories is Jenifer (Creepy #63), in which a young man saves the life of a mute deformed girl. It's a vintage feverish chiller, well worth revisiting. And let's not forget the lovable Archie Goodwin, who wrote countless tales for Warren Publishing, before moving on to Marvel and DC.

It would be a while before other publishers managed to compete with Warren's gothic delights. Quite a few competitors popped up in the late 1960s, but none of them were able to rival their high standard of writing. Skywald Publications, launched in the early 70s, were the only ones to get close. Their magazines Nightmare, Psycho and Scream captured the spirit of Warren's titles, as did several Marvel magazines of that decade. By that time a third title had been added to the Warren horror stable: Vampirella!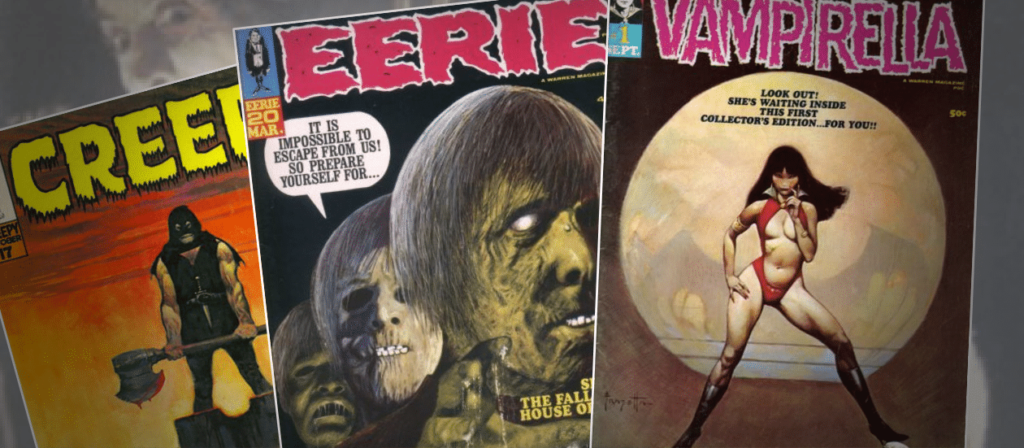 VAMPIRELLA AND BEYOND
Vampirella was more than just another horror host in the Uncle Creepy / Cousin Eerie tradition. This seductive star traveller was granted a feature of her own, which fleshed out her background and adventures. Though Vampirella would soon be the queen of horror comics, Creepy and Eerie maintained their popularity. Over the years, the magazines developed into platforms for legitimate artistic experimentation. In the 1970s Warren did not shy away from toying with sex and controversy, which set them apart further from regular sized colour comics.

Eventually comic magazines such as Heavy Metal and Britain's 2000AD took the black and white formula to the next level. Black and white comics raison d'être beyond the mid-70s, it seemed, was pushing the envelope. Creepy, Eerie and Vampirella too abandoned gothic elegance in favour of edgy storytelling. And in their defence: they did an incredible job and maintained their high standard. Though as much as I'm inspired by the possibilities of Faster Than a Speeding Whozit (Eerie #95), it's not the Eerie that I fell in love with. By 1981 it was all over. Warren ceased publishing and it's seminal horror titles folded.

Since then Vampirella has never really disappeared from comic racks. Creepy and Eerie too have been revived on occasion. But these later efforts cannot compare to the charm of the early offerings. In the early years, Creepy and Eerie were the perfect comic book extension of what Hammer films were doing in cinemas at the time. And I cannot get enough of them. Quality writing and wacky monsters in perfect balance. That's how I like my horror comics! And thanks to Dark Horse Comics we can fall in love with them all over again. I think I've made up my mind about those paperbacks. Have you?