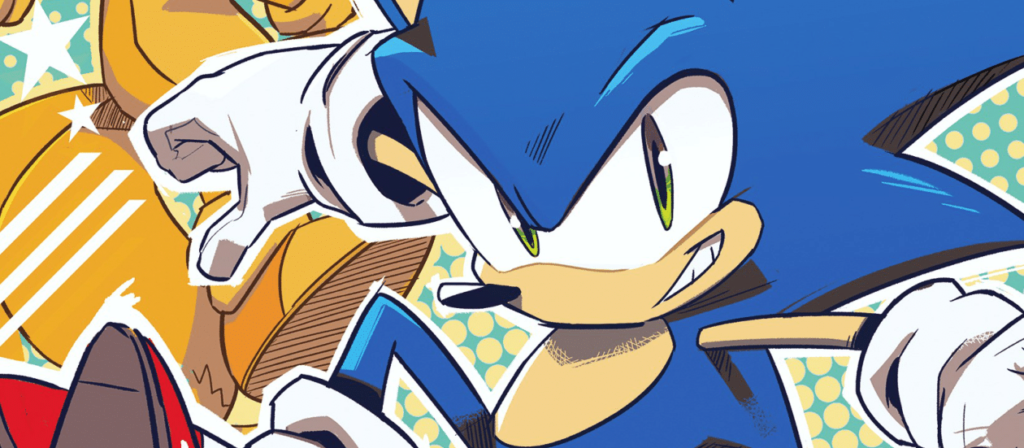 27-08-23 | Join us in celebrating the legacy of Sonic the Hedgehog this week, as IDW releases the 900th adventure of this seminal video game character. This current run of comics continues the incredible success of Archie Comic's Sonic series, which began in 1992 and ran continuously for 24 years. In 2015 Sonic broke the record set by Conan the Barbarian as the longest running (no pun intended) comic series based on a media franchise.

'Saving the world is a piece of cake when you're a speedy blue hedgehog. So easy, in fact, that Sonic the Hedgehog has done it about… carry the one, add the zero… 899 times.' Adding up all the issues of Sonic the Hedgehog that have been released over the years by different publishers, IDW discovered Sonic was speeding towards an incredible anniversary. The finest writers and artists from past and currents series have been recruited to produced 'six speed-racing, nail-biting, egg-kicking parts!'

Sonic's continued popularity is not to be taken for granted. While the character's success rivalled that of Nintendo's Super Mario in the 1990s, Sonic's fame started to fade when Sega's consoles ceased to appeal to the masses. And yet despite of several flopped games and declining popularity, Sonic's comic adventures have rarely been out of print. The 2020 film starring Jim Carrey could have been a cheap cash in, but turned out to be a magical adventure for the whole family. Now Sonic is back and here to stay! Celebrate his 900th adventure next week!