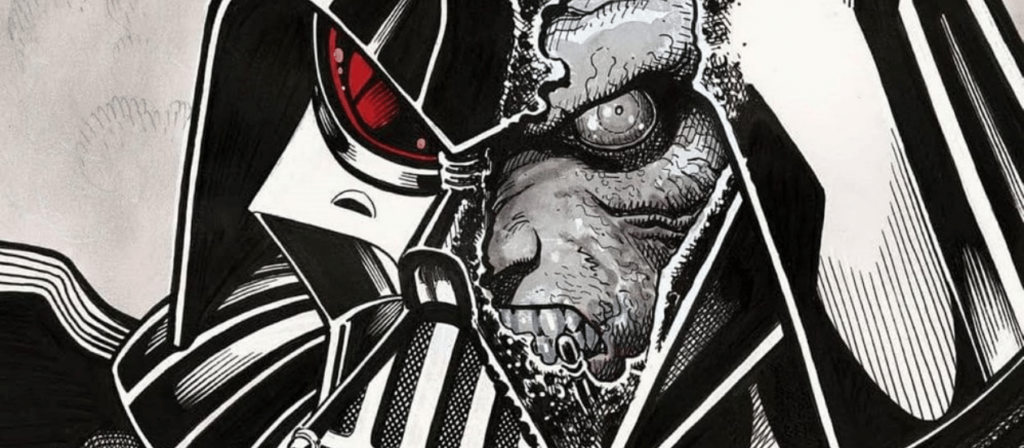 20-04-23 | Marvel's visually stunning range of Black, White and Blood comics is about to delve into the Star Wars universe for the very first time. After several series based on darker heroes like Wolverine and Deadpool, the Dark Lord of the Sith takes his turn in Darth Vader: Black, White and Red. The anthology will feature several artists take on Vader, rendered entirely in black, white and red.

Among the artists are Jason Aaron, Leonard Kirk, Peach Momoko, Torunn Grønbekk and Klaus Janson. 'And we've got more amazing talent lined up that I can't wait to announce – ' says editor Mark Paniccia. ' – It's such a thrill to use this unique storytelling approach on one of the greatest villains in the galaxy.' The enduring character of Darth Vader lends himself perfectly to a highly creative project like Darth Vader: Black, White and Red. The range will offer many different perspectives on the fallen Jedi, both artistically and philosophically.

It's not only a different take on Star Wars, but a new way of approaching the Black, White and Blood series. Marvel originated the comic book version of Darth Vader in 1977 and it's fun to consider what he's been through. Since the first issue of Marvel's Star Wars he's gone from cartoon villain to a multifaceted muse for the finest creators. Get Darth Vader: Black, White and Red next week!