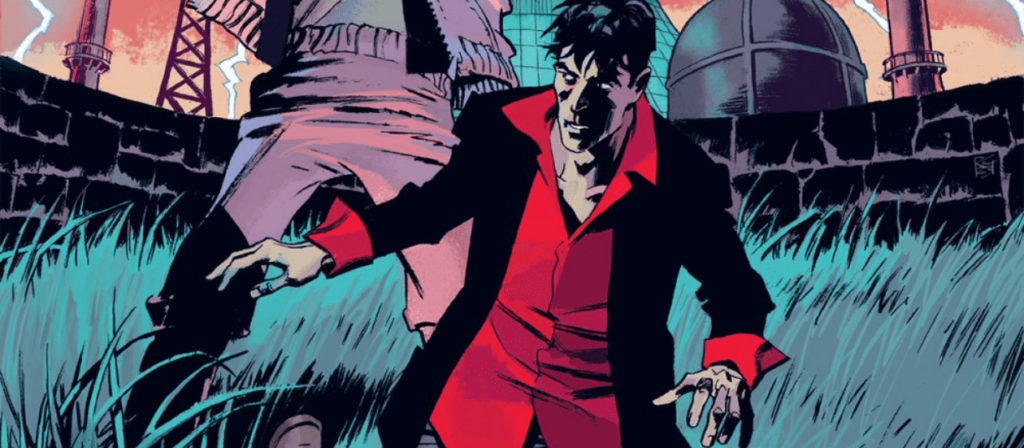 07-03-23 | One of the finest comic series in Italy, the long running Dylan Dog, goes back to basic in issue 438. A recent trilogy of comic stories rebooted the series continuity. The latest title, La Città Senza Nome (The Nameless City), returns the series to it's roots of creepy standalone adventures. Roots that go all the way back to 1986, when Dylan Dog was first introduced. In the years that followed the paranormal investigator quickly became one of the most popular Italian comic book heroes.

La Città Senza Nome finds Dylan accidentally stumbling into an unknown city, build around an ominous nuclear facility. It's sinister inhabitants all suffer from blindness. The perfect mystery for Dylan Dog to sink his teeth into. There are no current plans to release La Città Senza Nome in English, but English language reprints from Dark Horse and Epicenter Comics are well worth seeking out.

Dylan Dog also appears in two feature films. Cemetery Man has become a minor classic and is considered by some to be the last hurrah of Italian horror cinema. It benefitted greatly from the presence of Ruper Everett, who was one of Tiziano Sclavi's inspirations for Dylan. A later film, starring Superman Returns lead Brandon Routh, was rather forgettable.