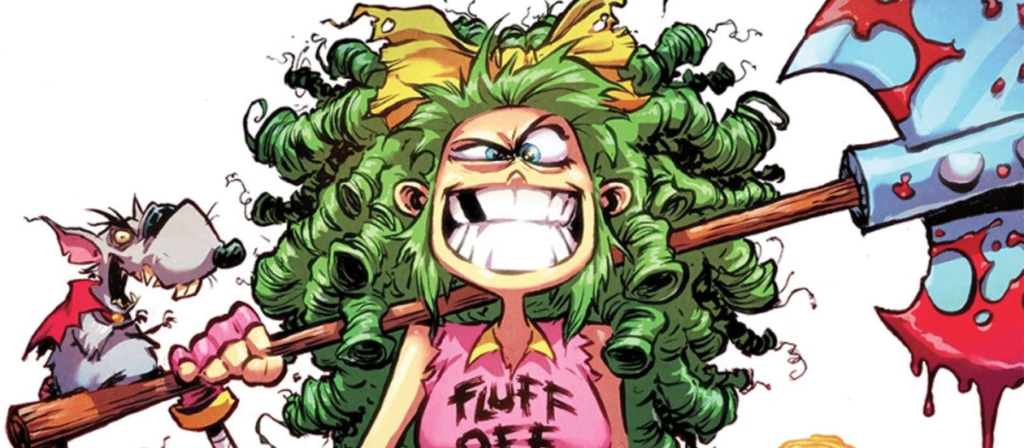 08-03-23 | The first story arc in the new series of I Hate Fairyland wraps up next week. The fifth issue of the current series sees Gertrude's mission for Walter Wiggins finally come to an end. When Image Comics relaunched the anarchic series in 2022, it had been on hiatus since 2018. The release of issue five brings to a close the first chapter in Fairyland's second era.
When the series was first launched in 2015, Gertrude was portrayed as a cynical little girl. The current storyline finds her grown-up and thrown back into the colourful mess that is Fairyland. Her objective is to find millionaire Walter Wiggins missing son. Leave it to creative team Skottie Young and Brett Bean to turn Gertrude's mission into a deliciously dark and quirky comedy. Bean's gangly interpretation of the adult Gertrude is a particular pleasure to behold.

The previous volumes of I Hate Fairyland have rightly been hailed as modern classics. Updating Gertrude's age and appearance has breathed new life into this vibrant series, which hopefully will continue after issue 5. The renewed popularity of characters like Deadpool and Harley Quinn prove that there's so much more to American comics than gritty superheroes. Gertrude's gory adventures offers the same quirky humour, though not tied to Marvel or DC continuity. A wholly original concept, which in and of itself is a very welcome breath of fresh air.