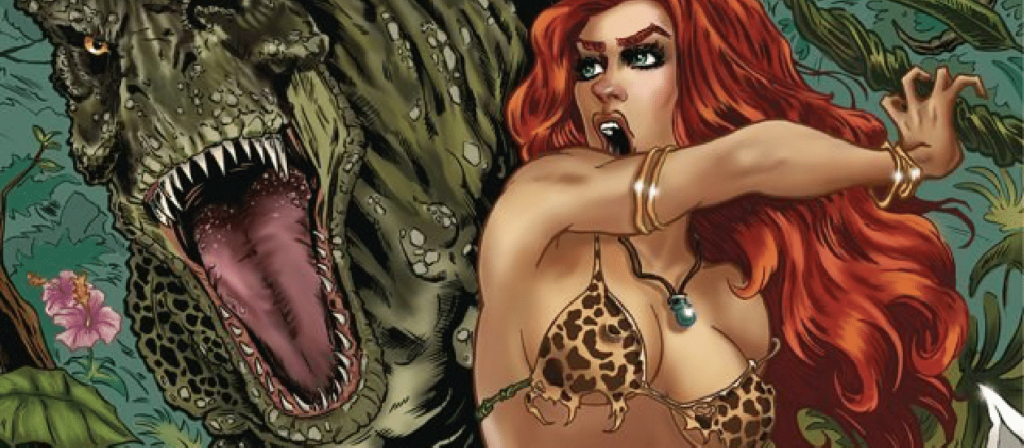 22-03-23 | Yes! It's more jungle fun from Antarctic Press! Next week sees the release of Jungle Comics #15, which once again features throwbacks to vintage safari stories from the 1940s. The anthology offers two tales, Prymal by Eric Alan Nelson, Marcelo Bravo and Andrea Peron, plus The Adventures of Zan the Jungle Lord by Giuseppe Pederiali, Roberto Renzi and Bruno Marraffa.

One of the main appeals of Jungle Comics (let's not beat around the bush) is the presence of countless female Tarzan-inspired heroines. The covers alone are worth the price of admission. Issue 15, the third to feature a Tyrannosaurus Rex menacing a brave jungle girl, would make for a great piece of wall art. As would issue 3, pictured above this article.

Make no mistake, the stories themselves live up to the covers! In Prymal 'Silvia's bittersweet reunion with her mother leads to memories of their first meeting and its harrowing details', while the second tale finds Zan 'on the run from a party of native warriors'. Yes, Jungle Comics toys with political correctness, but never crosses the line. It manages to be a loving tribute to the original Fiction House series (1940 through 1954), without invoking it's questionable zeitgeist.