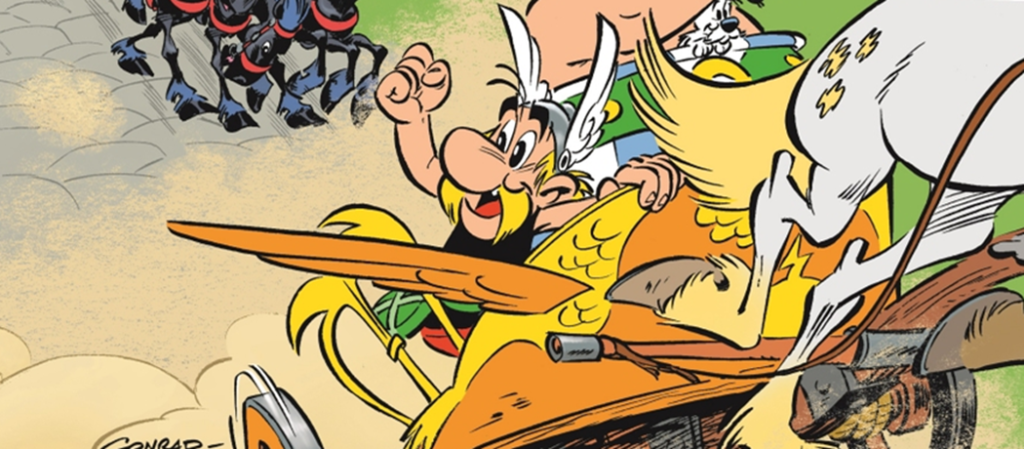 19-10-23 | Asterix, one of the biggest and longest running European comics, is back next week! The brave little Gallic warrior takes on the Roman invaders once more in the pages of L'Iris Blanc. The fortieth album in the series was the subject of a recent controversy, however, as its cover leaked on to Facebook months before its release. This must have ruffled a few feathers at Asterix' French publishing house, so much so that they were subject to an official police investigation.

For those unfamiliar: the Asterix saga is a humorous take on Roman history through the eyes of a small French village unwilling to give up their fight for freedom. Asterix remains one of the biggest characters in European comics, with each new title becoming a bestseller within weeks of its publication. Asterix and his kind-hearted companion Obelix have appeared in cartoons, live action films, video games and are the subject of their own theme park. One of the most popular in France, in fact!

L'Iris Blanc, or Astrix and the White Iris, is the first title to be released since the passing of co-creator Albert Uderzo. Uderzo had illustrated every Astrix album, from 1959 up until 2009, taking on writing duties as well when co-creator and writer René Coscinny passed suddenly in 1977. Didier Conrad subsequently took over as illustrator and will return for Asterix and the White Iris. Fabcaro debuts as writer of the Asterix range. The White Iris will be translated from French into a multitude of languages, including English. So there's no reason to let Asterix & Obelix pass you by!