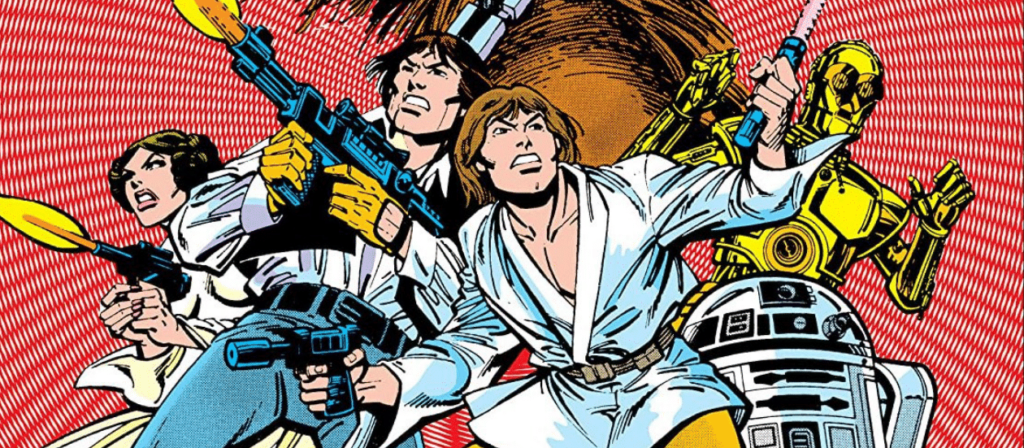 23-05-23 | The classic Star Wars series from Marvel Comics ends once more. The final issues of the original 1977 run are collected in paperback form next week. Marvel's classic Star Wars range was launched in 1977 and lasted nearly a decade. With this sixth volume of Star Wars Legends – The Marvel Years, the vintage series finally comes to an end.

Among the stories collected in this ultimate bundle are The Choice, in which Leia much decide what the future holds for the Rebel Alliance, Small Wars, featuring a battle between the Ewoks and the Lahsbees, and Supply and Demand, in which Han and Leia drift apart. Also featured are stories starring the villainous Lumiya, Marvel's female answer to Darth Vader, and the landmark 100th issue. Completists will be happy to observe Marvel has also thrown in the one-off 108th issue, part of Marvel's 80th anniversary celebrations.

Although Star Wars lost some of it's sting after Return of the Jedi, an undeniable magic is still present in these later issues. The early comics are as much part of the Star Wars experience as the vintage Kenner toys and figures. Yes, the Dark Horse Comics were arguably better written and tied into the expanded universe more explicitly, but Marvel Star Wars was current. Actively filling in the gaps between movies as they were being made. And now they are yours to own once more. Volume 6 of Star Wars Legends – The Marvel Years is out next week!