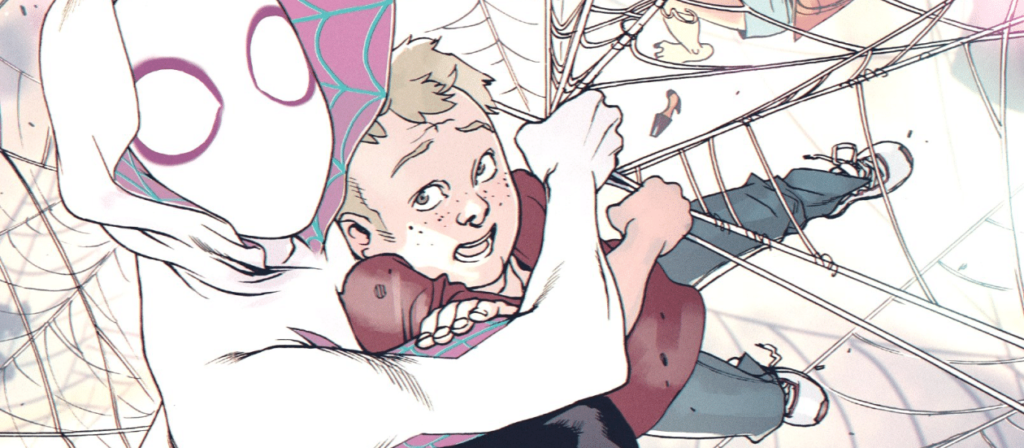 25-07-23 | One of the coolest chicks from the pages of Marvel Comics is coming your way in an awesome collected edition. If you want over 800 pages of Spider-Gwen, then Spider-Gwen: Ghost Spider is the omnibus for you! A beautiful hardcover volume, bursting with action and great dialogue by Mike Costa, Vita Ayala, Ig Guara and many others. It's the perfect introduction for folks who only know Gwen Stacy as one of the most popular cosplay characters out there. Get it next week!

Considering Spider-Gwen: Ghost Spider collects over 30 issues, there are too many great adventures to choose from! Among these are stories in which Gwen faces villainous versions of herself, such as the Gwen Goblin and Gwenom. Also included is the Web Warriors storyline in which Spider-Gwen teams up with countless incarnations of Spider-Man, including Peter Parker, Miles Morales and good old Spider-Ham.

Spider-Gwen debuted within the pages of Edge of the Spider-Verse, which explores alternate interpretations of Spider-Man. Soon after, Gwen was granted her own comic book series in 2014 which ran for a considerable amount of issues. The series collected in this particular hardcover volume follows the adventures initiated in the 2014 series, which is also available in collected form.