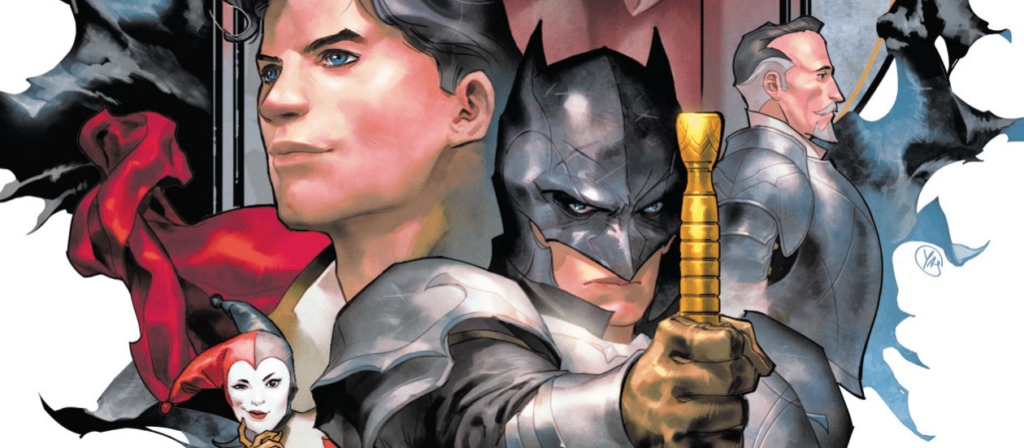 17-08-23 | Epic does not begin to cover the bestselling Dark Knights of Steel range! After twelve grand issues the extravagant storyline ends its run, wrapping up the story of the Three Kingdoms. Dark Knights of Steel deals with a medieval version of the DC Universe in which Superman, Batman and Wonder Woman have been reinterpreted as chivalrous heroes. A bestselling series, part one of which has already been collected in trade paperback and hardcover editions.

'An entire medieval world will be forever changed when a spaceship crash-lands from a doomed planet. Kingdoms are divided. Monarchs have fallen. Families have been torn apart. The Kingdom of Storms, the Amazons, and the Els are on the brink of all-out war.' Speaking to ComicBook.com, ace author Tom Taylor said 'What readers are going to see with Dark Knights of Steel is a story they've never seen before in the DC Universe.'

Taylor was personally invested in Dark Knights of Steel and it shows. 'Being able to combine superheroes and swords and sorcery was just dream come true stuff for me. It's just joyous.' Illustrator Yasmine Putri's artwork has also blown away readers. Her panels truly are like fantasy paperback covers come to life. Though DC heroes have wielded swords before, a story at this scale has never been attempted. Taylor and Putri demonstrate that the realm of fantasy fits the DC Universe like a glove! Pick up the final issue next week or look forward to the second hardcover volume in December.