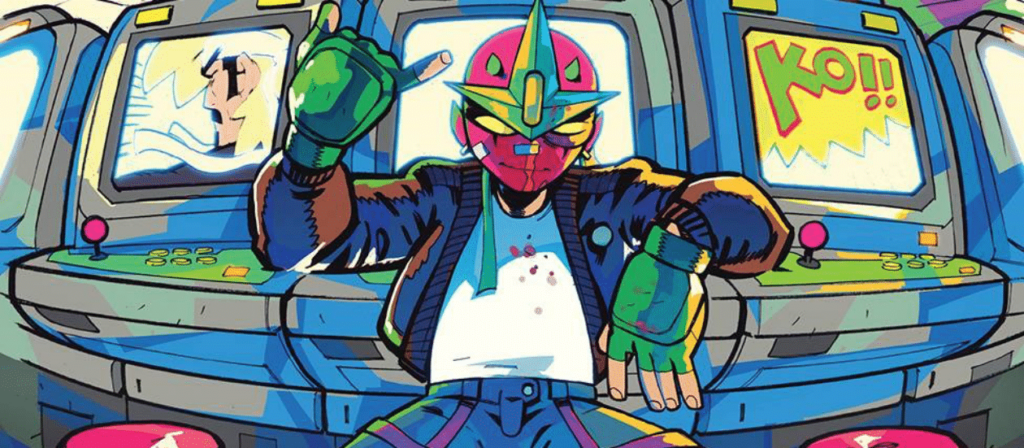 04-05-23 | Image Comics has revealed another stellar mini-series. Arcade Kings is a must-own for any reader hungry for video game nostalgia and neo-Japanese imagery. The story, by multitalented Dylan Burnett, revolves around the mysterious Joe, who's arcade skills cannot be matched. Unsurprisingly, Joe is the harbinger of many sinister secrets, which will be uncovered in three issues starting next week.

In Arcade Kings, 'Joe, a mysterious new face in Infinity City, has suddenly become the hottest new player at the Round House Arcade. Anyone can challenge him, but no one can win. But Joe's secret past is about to catch up to him when his most formidable challenge yet rolls into town.' Additionally, the tale will deal with Joe's lost brother, whose past is at the heart of Joe's dark secret. Preview artwork reveals a gorgeously drawn neon lit world to match the formidable story.

Talking to You Don't Read Comics several year ago, Dylan Burnett admitted that 'I'd 'rather draw a character I'm not attached to, with a writer I really admire, rather than a character I really love, with a writer I'm not nuts about.' As artist and writer Burnett is now fully in the driver seat. It'll be interesting to discover how it affects his work. And it assures readers that, as far as the main characters of Arcade Kings are concerned, all bets are off! Get Arcade Kings next week. If it's from Image Comics, it has to be good!