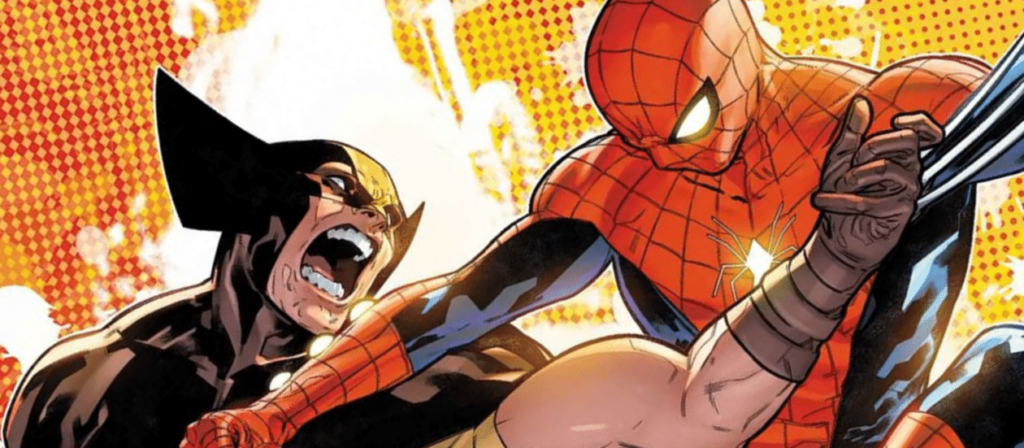 06-08-23 | Two of Marvel's greatest heroes will be pitted against each other within the pages of the upcoming Spider-Man Annual. In a tale written by Stephanie Phillips and drawn by Alberto Foche, Agatha Harkness slings Peter Parker and Logan into the Darkhold, where the popular manhunters must do battle. But wait … that's only the first of seven Marvel mash-up battles!

In a storyline entitled Contest of Chaos the entire Marvel universe is turned on its head. Following the brawl between Spidey and Logan, you can enjoy Iron Man vs. Storm, Ghost Rider vs. The Human Torch, Moon Knight vs. Taegukgi, Spider-Gwen vs. White Fox, Venom vs. Deadpool (yikes!) and finally Captain Marvel vs. Cyclops. The winners of these respective battles will team-up to fight the Avengers in late September.

Marvel Comics has a tendency to overload their superhero teams with personalities, leading to cluttered storylines which are difficult to follow. Especially to those unfamiliar with the Marvel universe. Contest of Chaos remedies this by focussing on two superheroes per issue. A great idea, which is bound to be loads of fun! So who's going to win the first round … Spider-Man or Wolverine? Place your bets right now!