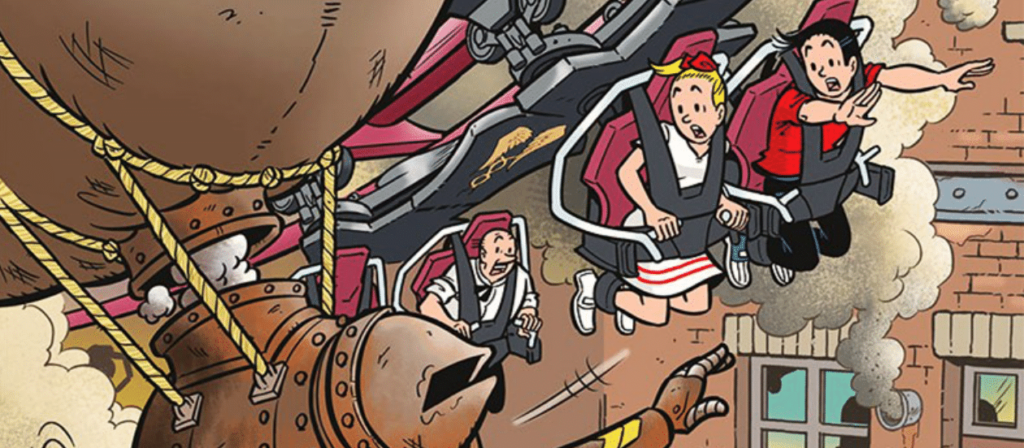 25-04-23 | Belgium's most popular family comic, Suske & Wiske, is back! Not just one, but two incredible titles have been unveiled. First up is Rookburgh Rookies, set in the popular German theme park Phantasialand. Next is De Luchtballon (The Air Balloon), a previously unpublished story featuring the Golden Stuntman, the alter ego of barrel chested sidekick Jerom.

Rookburgh Rookies finds teenage adventurers Suske & Wiske unravelling the secret behind a steampunk themed area of Phantasialand. Time traveling back to the dawn of the previous century, they discover a wealthy community living among the clouds in steam powered airships. Phantasialand is the latest theme park to commission a Suske & Wiske comic book to promote their brand. Another notable example being Fata Morgana, set in Dutch park the Efteling.

Continuing the theme of air travel is Jerom. The popular spin-off debuted in 1962 and ran for almost thirty years. Within the pages of Suske & Wiske, Jerom was depicted as a kind cave man from a bygone age. Several issues into his own spin-off series, Jerom donned his golden cape to compete with Batman's television popularity. Lost story De Luchtballon has never been printed until now, and stars the Golden Stuntman in his absolute prime. Both stories are unlikely to be printed into English. However, given the international appeal of Phantasialand, German and possibly French translations are a distinct possibility.